Session cancellation requires 24-hour notice in accordance with the Coaching Policies. For that reason, it is not possible to cancel a Coaching session with less than 24 hours of notice.
To cancel the session, you should follow these steps:
Log into the portal at https://fluent-forever.com/s/login more than 24 hours before your upcoming session is scheduled.
Once logged in, select the profile icon on the upper right → Account.
Select Coaching Scheduling.
Find the upcoming session you'd like to cancel.
Select the arrow on the upper right corner of the session area to reveal the drop-down menu.
Select the desired option for the session cancellation - to cancel one particular session or all recurring sessions on a particular day.
Confirm the session cancellation.
The canceled session(s) will then be available to be rescheduled.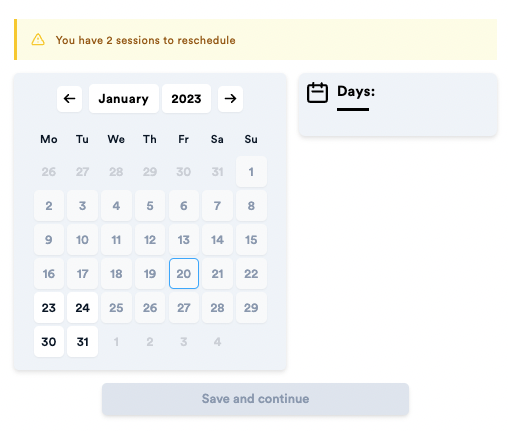 All canceled coaching sessions may be rescheduled, provided they take place prior to the subscription expiration or renewal date. Session cancellations or rescheduling must be managed via the portal fluent-forever.com. Session cancellation requests sent through any other means of communication are considered invalid and will not be honored.
For more details about the policies for rescheduling sessions, please refer to the Coaching Policies.